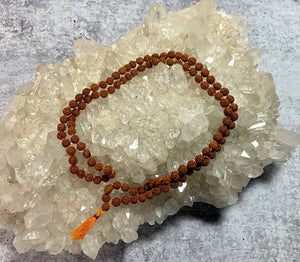 Rudraksha Jap mala (108 Beads)
Rudraksha beads, botanically known as Elaeocarpus Ganitrus Roxb, are the seeds of the fruit from Rudraksha trees. Rudraksha trees are found mainly in Indonesia, Nepal, and India. According to the ancient Vedic scriptures, Rudraksha Beads were formed from the tears (Aksha) of Lord Shiva (Rudra). They have been used traditionally by Hindu, Buddhist, Japanese, Chinese, and Zen followers for controlling stress, overall healing, meditation, and engendering positive changes.
For thousands of years in India, yogis have worn Rudraksha Beads to experience the deep tranquility and concentration which are vital for meditation and control of mind and body. Under the power of Rudraksha's positive influence, vast amounts of Vedic literature were studied and memorized in ancient India by disciples of spiritual knowledge. In China, Rudraksha is used to enhance the flow of Chi life energy in the body and balance Yin & Yang. The Zen Buddhist sect in Japan uses Rudraksha beads to induce deeper states of meditation.