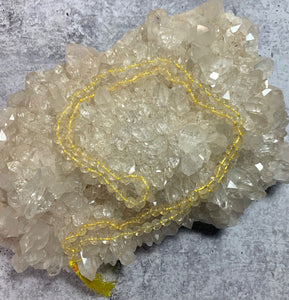 Citrine Jap Mala (108 Beads)
Citrine – A vibrant stone known to energize your aura and soul. A stone known to create abundance. Citrine brings light and energy to an area of darkness, just like the sun brings light into the morning after darkness. The energy of citrine is strong and therefore requires movement, an energetic movement which it creates by itself. The energy flow created by citrine pulls in abundance in multiple ways in your life. This stone reminds you of your goals and ambitions, it pushes you to do your best regardless of the current circumstances.
Pure Citrine from India. 
Not heat treated or colored.